Technical Work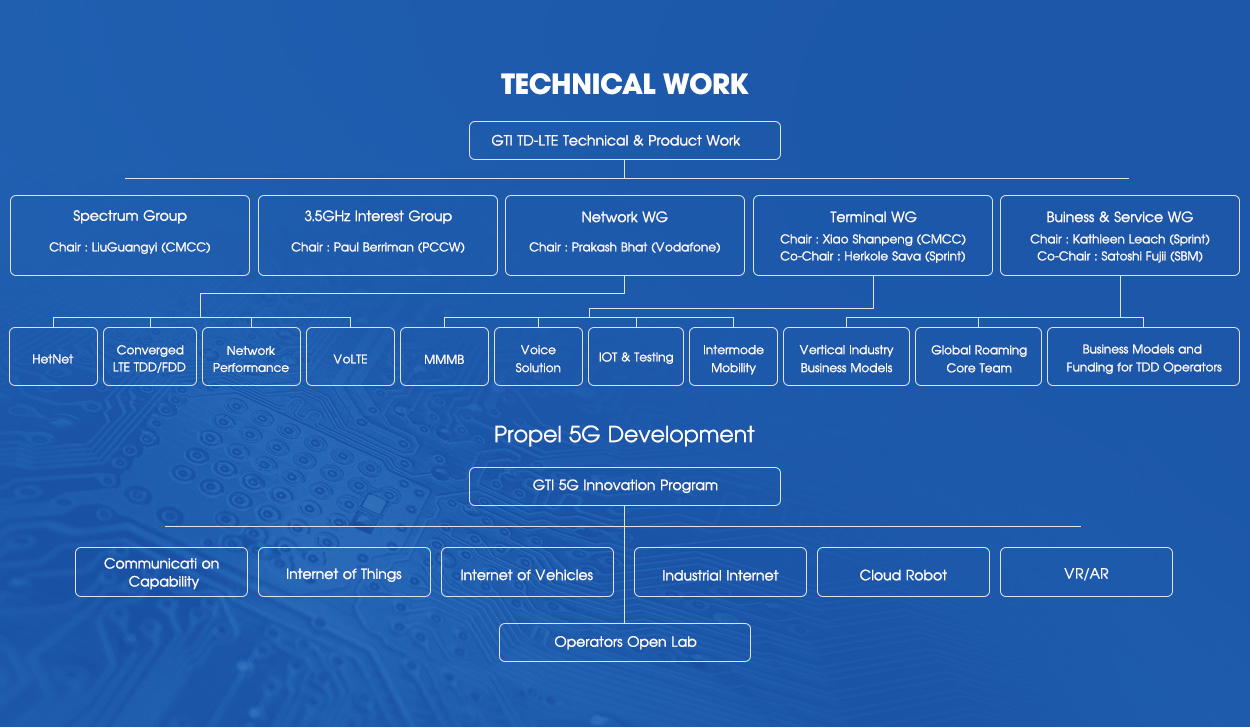 Working Scope:
5G Innovation Program [New!]
• Validate key technology
• Test and trial on E2E system
• Promote industry commercialization
• Study new opportunity and requirement
• Facilitate cross industry innovation
• Demo and promote new services
HetNet
• Study co-channel deployments and interference management
• Solutions for cost-effective transmission
• Role of Wifi/Unlicensed LTE
• Requirements for support of multi-vendor O&M
Converged LTE TDD/FDD
• Define use cases and deployments
• Load balancing- methodologies and results
• Requirements of multi-vendor inter-operability
• Carrier Aggregation/Joint operation trial results
• Impact and solutions for co-existence (e.g. Band 7/38)
Network Performance
• Study solutions/features to deliver coverage& uplink performance
• How to manage co-exitence to other operators
• Dynamic UL/DL balance
• CoMP performance and enhancements, particularly with non-fibre backhaul
VoLTE
• Discussion on technical requirements for VoLTE
• International roaming IOT
Multi-Mode Multi-Band Solution
• Define a common set of LTE bands required by GTI operators in order to support regional deployments and roaming
• Define a common set of multi-mode multi-band devices requirements in order to accelerate devices eco-system, device development and certification process
• Define device configuration parameters in order to facilitate roaming scenario
• Generate whitepaper and product specification for device design
Voice Solution for TD-LTE Handset
• Define a common set of multi-mode dual-standby single-USIM handset requirements in order to accelerate the product R&D, support regional LTE deployments and roaming scenarios, make IOT and certification easier
• Define a white paper that can be shared among GTI members, chipset/terminal vendors, front-end component vendors, infrastructure vendors, and other external partners to facilitate the handset designs
• Guide the vendors to provide multi-mode dual-standby single-USIM handset products
• Release joint testing report of multi-mode dual-standby single-USIM handset products
IOT and Terminal Test
• Joint study on terminal testing technologies, develop common test requirements and test specifications to TD-LTE industry
• Discussion on joint testing activity to reduce test cost and improve test efficiency
• Get agreement on Network Simulator IOT (NS-IOT) requirements and test specifications
• Share terminal test information in TD-LTE industry
Inter-Mode Mobility
• Push the standardization and implementation of TDD/FDD Inter-Mode Mobility
Innovative Industry Applications and enterprise Business
• Industry Market Research focusing on Mobile Technology
• Researching and Developing Innovative Industry Applications
• Studying, Analyzing, Researching Enterprise Business in 4G
• Promoting Industrial Development and Co-operation
• Studying personal, home, enterprise products, like Home Gateway etc.
Global Roaming
• Accelerate the establishment of LTE Roaming among LTE operators
• Provide Key Market & Industry Updates
• Collaborate with Key Industry Groups
Business Models and Funding for TDD Operators
• Aspire TDD spectrum holders to seek the necessary funding to deploy TD-LTE
• Support TD-LTE only operators to achieve positive cash-flow
• Develop formal approach to gaining Financial Investor interest in TD-LTE operators
• Identify operators seeking funding and solution partners/operators ability to support
3.5G Terminal
• Facilitate the industrialization of 3.5GHz TD-LTE system
• Promote 3.5GHz device development to accelerate commercial reality
• promote Industry Support and Operator adoption of and migration (from WiMax) to 3.5Ghz TD-LTE
Spectrum Consulting
• Communicate with the regulators and drive the licensed but unused TDD spectrum to be utilized and the unified TDD allocation for new unpaired band globally
eNB Product Planning & Specification (transferred to HetNet)
• Drive efficiency and cost savings in the infrastructure area with clear product alignment and high level requirements
• Understand primary product classes/type, avoid where possible diversification of similar product types
• Identify and align primary product requirements for each group/class
• Identify key product dependencies and inter-operability requirements
• Seek to deliver product prioritization and indicative deployment timelines
• Identify product holes
• Two main groups, macro & small cell-distributed solutions, micro, pico, femto and active antenna products are all in scope
Coexistence of TD-LTE and LTE FDD (transferred to Converged FDD/TDD)
• Investigate the Band7/ Band 38 TD-LTE and LTE FDD coexistence issues, especially for co-site deployment senario
• Discuss interference scenario and interference mitigation strategies
• Define common operator requirements for eNB and guide network/site deployment strategies
• Define common operator UE/device requirements to facilitate a harmonized 2.6 GHz UE ecosystem that will include Band7 and Band38
Network Planning: Coverage Planning & Solution (transferred to Network Performance)
• Estimation of TD-LTE coverage from influence factors of propagation model and link budget calculation
• TD-LTE trial results sharing on coverage, such as results of different antenna configuration and penetration loss of different frequency, band and materials
• Solutions for indoor coverage from technology, product and network planning in different scenario
Multi-Antenna Solutions & Specifications (MASS) (transferred to Network Performance)
• Common requirements for TDD multi antenna products
• Solutions for compact antenna & co-site antenna requirements
• Aligned multi-antenna field trials and key performance evaluation
• Push more antenna and equipment vendors to build a strong multi antenna products industry
Dynamic eMBMS(transferred to Network Performance)
• Solutions for supporting dynamic eMBMS in TD-LTE
• eMBMS deployment in TD-LTE
• Push supply chain (e.g. chipset) to support eMBMS
Coexistence of WiMAX and LTE (Closed)
• Share trial results for coexistence of WiMAX (Band 41) and LTE (Band7 and Band38)
• Discuss interference scenario and interference mitigation strategies
• Define common operator requirements for eNB vendors and guide network/site deployment strategies
Beamforming (BF) Infrastructure and Antenna Solution (Closed)
• Investigate BF principle
• Study on network gain with BF
• Share field test results with BF
• Study on implementation and networking solution (with antenna solution)
Handover between TD-LTE and LTE FDD (Closed)
• Investigate the use case and scenarios for Handover between LTE TDD and LTE FDD from the operators' point of view and agree on a way forward
• Guide vendors to provide products which support handover between TD-LTE and LTE FDD
Consumer Electronics Marketing (Closed)
• Develop a target list of OEMs/ODMs
• Educate OEMs/ODMs with necessary information to propel investigation and deliver of TDD-LTE device
• Share important learnings from the OEMs/ODMs
• Leverage channels to communicate to the market and ecosystem