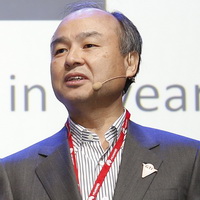 Masayoshi Son

Chairman & CEO, SoftBank Group Corp
Significance of HPUE
•Today's HPUE on Band 41 is as important as TD-LTE 5 years ago, and it needs to be addressed immediately.
•We need HPUE that increases the propagation by 3dbm, distance by 1.3X and coverage by 1.6X.
Interpretation on Singularity
•The day computer outsmarts human is what we called singularity, and the day will come soon.
•Computer with artificial intelligence will be smarter, quicker and deeper than human being, and number of smart robots will surpass that of mankind in 30 years.
•Keys of Singularty incorporate AI, Smart Robots and IoT.
Mobile Traffic Trend
•30 years from now, mobile data traffic will continue to grow and reach 1 Million times of today. With limited spectrum resources, technology evolution is the only way to tackle it.