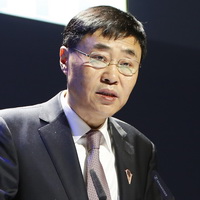 Shang Bing
Chairman, China Mobile
In the Leadership Speech of Mr. Shang, he firstly introduced the 4G TD-LTE progress of China Mobile. He said that:
Firstly, we deployed the world's largest 4G network. By the end of 2015, we have built over 1.1 million 4G TD-LTE base stations and covered a population of 1.2 billion. Meanwhile, we could provide 4G roaming services in 114 countries and regions.
Secondly, we have the largest 4G subscriber base. We sold more than 300 million terminals in 2015, and the number of subscribers is over 340 million with 400 new subscribers per minute. The penetration rate of China Mobile's 4G subscribers reached 40%.
Thirdly, we promoted 4G new technology to be widely used. Carrier Aggregation (CA) technology has been commercially deployed in over 300 cities and VoLTE service has been launched in 100 cities.
As to the future development strategy, he said that China Mobile would seize the new opportunities brought by "Internet of Everything" and accelerate the construction of next-generation network infrastructure. Mainly in the following aspects:
Firstly, China Mobile will speed up TD-LTE development and enhance networking capability.
1) Expand Network Scale and Accelerate 4G Evolution.We will deploy 300 thousands more base stations to further expand TD-LTE network scale, and enhance technical capability to accelerate 4G evolution.
2) Enhance Device Capability.We will continue to enhance the capability of global roaming and new technology, and we will also promote the application of high power UE and self-branded devices.
3) Expand Subscriber Base.The number of subscribers is expected to exceed 500 million and the penetration rate of 4G subscribers will reach 60%.
Secondly, China Mobile will strengthen international cooperation and promote global seamless connectivity. We will promote TD-LTE global development with GTI and launch hi-H Program to deliver the best global roaming experience.
Thirdly, China Mobile will build an open system and promote NB-IoT industrial development. We will promote our IoT private network development and build an open IoT business system to achieve 100 million IoT connections in 2016. On the other hand, we will accelerate industrial maturity of NB-IoT and build a public IoT network with low cost, low power, wide coverage and high reliability, which will be commercially launched in 2017.
Fourthly, we will propel 5G standardization and build new ecosystem. China Mobile will actively promote 5G standards and products development. Moreover, we will announce the opening of China Mobile 5G Innovation Center in this summit. We will collaborate with more international organizations and industry partners to build a cross-industry innovative ecosystem.
Finally, Mr. Shang said China Mobile would fully support GTI 2.0 and he gave three advices on GTI future work:
1. Promote the development of TD-LTE new technologies and products.
2. Diversify multi-mode multi-band and global roaming terminal, and promote deeper convergence of TDD and FDD.
3. Make the best of TDD technologies for 5G and propel the development of 5G standard and technology.