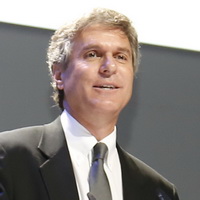 Mr. Craig Ehrlich
Chairman, GTI
In February 2011,GTI was launched by 5 companies, Bharti Airtel, China Mobile, Sprint (Clearwire), SoftBank Mobile and Vodafone, and 4 objectives have been set up:
- Create a world-class ecosystem around LTE TDD
- Promote the commercialization of LTE TDD
- Gain the cooperation among the operators and the vendors
- Achieve the convergence of LTE TDD and FDD
After 5 years, GTI has achieved almost all these objectives:
- TD-LTE is now a global standard.
- TD-LTE has been deployed in 43 countries globally, many of them are converged TDD/FDD.
- GTI has 122 operators who are committed or are delivering services today, and 103 industrial partners who are part of our ecosystems.
"Is our work completed? Absolutely NOT."
GTI is stepping into a new phase——GTI 2.0:
- GTI will continue to work in the tasks forces and working groups to ensure complete cooperation compatibility at every level with TDD and FDD.
- GTI will start to focus on 5G area, working closely with all the other 5G organizations to promote 5G development.